The Key (1983)
:
Junichirô Tanizaki's novel, Kagi (The Key), had previously been made into a film in 1959 by co-writer/director Kon Ichikawa (retitled Odd Obsession, the film was released two years later in America) and years later, Tinto Brass took a leap of faith in his own abilities as a writer/director and bought the rights; he then waited for the right time to tackle the book's plot, about a couple who discover each other's sexual inhibitions and desires by reading each other's regular diary entries.
As he explains in the DVD's excellent interview segment, Brass' take on the novel was radically different: the story's more interesting angle was the man's own questioning of his own sexual desires, as age had transformed his marriage into a civil and polite existence. The rigid facade of the Japanese culture was reworked to exploit the social and behavioral constrictions imposed by Mussolini's fascist regime, the locale became Venice, and Italian references replaced any ties to the story's Japanese elements. Even the influence of the diaries was reduced, although it's only after the husband has left the key to his desk that the wife starts to read his diary – thereby prompting her to start one of her own. The husband's discovery of her book is awfully contrived, but past that issue, The Key is a surprisingly good film, peppered with Brass' usual fixations on a woman's hairy delta, and her rear ovals.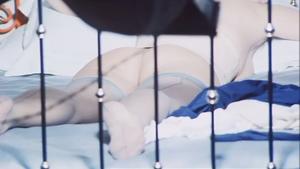 Brass admits his favourite period is the forties, where he discovered the eroticism of women through fashion, art, and music, so it's no surprise that even when his films aren't set in the roughly 1945-1955 decade, each frame is larded in some way with retro imagery or songs from his youth. Garters, primary colours, and pop-jazz ditties are the mainstays, although his use of gauzy lenses, foggy backgrounds, and blue-tinted sunlight are redolent of arty seventies filmmaking.
The pedigree involved with The Key is unusually high, since Brass' subsequent films rarely involve name actors, and are basically 90 min. exercises in popo adulation; neither plot nor characters are really important. It's clear Tanizaki's novel inspired him to go beyond his insane fetishes (or at least diversify them), so while established actor Frank Finlay (The Three Musketeers) does his measure of groping, fondling, and obsessing, he gives Brass' acceptable dialogue a bit of sophistication – a tactic the director and Bob Guccione knew would keep people watching when the excesses of Caligula bled from the screen in ghastly bouts of gore and foaming fluids. English accents from trained thespians clearly worked that film, but unlike Caligula, The Key has characters.